Customer Lounge (All-New in 2020)
Recently renovated in 2020, our state-of-the-art customer lounge feels more like a luxury resort. Sit back and relax in front of the fireplace while enjoying a Jets game on the 55" TV. Amenities such as leather seating, specialty coffee/espresso machine with over 35 hot beverages, and complimentary iPad Pros available for guests are just some of the benefits of servicing your vehicle at McNaught. We also have complimentary high-speed WiFi to enable you to stay connected while you visit, and free water-bottles to keep you comfortable during your stay.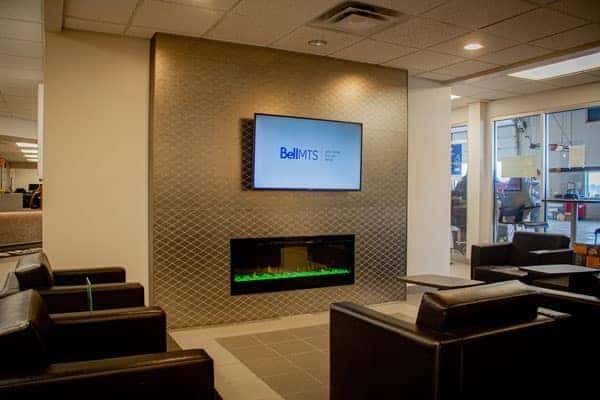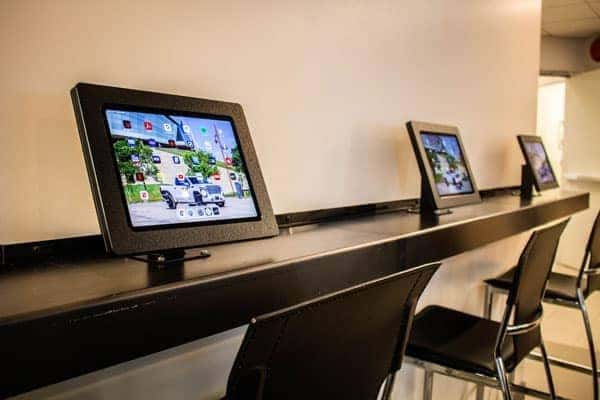 McNaught Performance Accessories (All-New in 2020)

McNaught Performance Accessories is a brand new department that we've created in response to the high-demand for quality OEM and Aftermarket accessories. We also sell a huge variety of lifestyle items ranging from hats, shirts, duffle bags, keychains & travel mugs. Our Accessories Specialists can help you find anything you need for your new or existing vehicle. Looking for a lift-kit, performance exhaust, air intake, rims or winter tires? Look no further than McNaught Performance. Best of all, most of our accessories are covered by a 3-year warranty if installed at the time of your new vehicle purchase. Whether you are looking to give your vehicle its own unique feel, or give it that extra protection against the chilly Winnipeg winters, our friendly and knowledgeable Accessories Department is always available for you.
McNaught Performance isn't just a department, it's a lifestyle. We sponsor various events around the province, from Red River Co-op Speedway, to Custom Lifted Trucks that are promoted at car shows around the city. We encourage you to share your personalized vehicle from McNaught with #mcnaughtperformance and we'll feature you on our social media pages.

New Car Department
We carry one of the largest inventories of Cadillac, Buick, and GMC vehicles in the province. Our state-of-the-art 10-vehicle showroom features the latest and greatest models we have in stock, while our exterior lot has a capacity to display over 250 other vehicles. We also have access to a nationwide inventory of GM vehicles through factory orders and dealership trades. We will go to every extent to find you the perfect vehicle. Best of all, because we are a large volume dealership we have one of the most competitive pricing across the nation. Our mission is to be as transparent as possible with our pricing, which is why we always post the lowest number first on our website.
Pre-Owned Department
We are the largest certified pre-owned dealership in Manitoba with one of the most competitive pricing on the market. Our pre-owned inventory includes cars, trucks, and SUVs from some of the top auto manufacturers such as Ford, Toyota, Honda, Nissan, Chrysler, and Chevrolet. Because our certified pre-owned and used vehicles have undergone rigorous 150 point inspection, you can drive away with confidence and peace of mind when you shop our inventory of pre-owned and used cars. We have the best reconditioning process in Western Canada. This includes a 48 hour detailing process, full 150 point inspection, fresh oil change, new wiper blades, nitrogen filled tires, and dent & stone chip touch ups. We ensure every pre-owned vehicle is in like-new condition before it hits the lot!
Collision Centre
Why choose the McNaught collision centre? In the unfortunate event of an accident, trust in McNaught Collision Centre to take the utmost care in repairing your vehicle. We can expedite repairs so your vehicle is returned good as new in no time at all. Repairs are done to the highest level in accordance with modern industry and OEM standards.
We know every manufacturer builds vehicles differently. Our goal at McNaught Collision Centre is to repair your vehicle back to the way it was built, the way it was meant to be.
Our highly skilled certified technicians are I-Car Professionals who take pride in their work and are continually upgrading their education and training to ensure they execute the highest quality repairs. Membership in professional trade associations indicate that our facility is keeping up with the latest repair techniques and procedures.
We are proud to host environmentally friendly waterborne paint technology at our Collision Centres instead of using materials containing harsh chemicals. Our certified technicians offer consistent, professional and accurate auto repair services using environmentally friendly practices in order to better serve your vehicle and the community.
"McNaught Collision Centre is the #1 Collision Centre in AutoCanada. We are MPI certified and have on-site estimators to ensure a quick and efficient process. We have created a separate area in our body shop dedicated to aluminum body repair. We also have two technicians that specialize in Audi repairs" - Frank Veert.
Audi Certified (high standards - do a bit of Googling for this one)
MPI Certified
On-site estimators
Rental vehicles available on-site
Service Department
We have a fully equipped service department dedicated to keeping you on the road and keeping your vehicle running like new. We have a team of qualified service technicians standing by to help you with any of your service-related needs. From oil changes, tire rotations, brake pads or transmission problems, we have trained technicians who are able to help at a moment's notice.